Have you ever looked into a wood-fired brick oven for three straight minutes and watched a flat, raw pizza puff up into a bubbling cooked one in seconds?
I just have for the first time, and it's spectacular! The baking happens so fast, it feels like you're seeing time-lapse photography instead of live cooking.
You're watching, watching…and nothing for 20 seconds — it's still flat.
Then, suddenly, Oh! The edges seem to be thickening, but are they?
Another 15 seconds and OMG, you're sure: they're definitely puffing up and then, wow! A couple bread bubbles appear on the edge nearest the burning wood, and in the next moment you realize that, actually, in fact, the whole crust has risen up! And that it's begun to color and darken irregularly – that the cheese topping is rising and bubbling, too.
Then, after a few turns of the pie – so all edges get direct face-time with the fire — the flat raw dough has turned into a gorgeous pizza.
"It's a living thing!" said Lisa Corrado [above] of Hingham, excited by my excitement and the fact that this is the first pizza of the season in the beautiful backyard oven her husband Frank, a master mason, built in 2005.
For a while now I've been hearing about how great wood-fired brick ovens are – for cooking, definitely, but maybe even more for their ability to create an instant party. Last weekend, I finally saw why.
Devotees say that anything that can be baked in a regular oven can be improved by cooking in a wood-burning oven. And I've heard, and tasted, enough to believe that's true. Lisa (an illustrator by day, chef by night) made a casserole full of roasted potatoes with olive oil and rosemary and another of chicken wings that were both delicious.
But I think it's the ovens' near-magical prowess at baking pizza and other bread-based goodies that draws crowds like karaoke used to do.
It's just so much fun to assemble pizzas with different toppings – one after another – and have them come out of the 700-plus degree oven three minutes later, max.
Frank grew up in the village of Palermiti, in the Southern Italian province of Calabria, in a family that cooked in a wood-fired brick oven that his grandfather's grandfather built 150 years ago. This is a guy who knows wood-fired ovens and a family that loves nothing better than to have a bunch of friends over to eat.
An hour after I called to inquire if the Corrados (former acquaintances, now friends after our bonding by fire experience) had an oven, I was at their house near Hingham Harbor, seeing how the fire was started.
Four hours later, I went back for their first outdoor party of the season on the first winter day the mercury rose above 50 degrees. Still, it was cold after the sun went down, but you couldn't drag this group away — pysched as they were to be back around their friends' oven. And, to be fair, an outdoor fireplace Frank built kept everybody warm enough to stay until after 10 p.m.
"We've got about five house pizzas," said Lisa, as she prepped ingredients in the kitchen wearing a chef's jacket. Frank had just the evening before returned from visiting his parents in Palermiti, and the kitchen counter was laden with foods he'd brought home: a batch of his mother's homemade green olives, gallons of her (homemade) olive oil, a hunk of fresh pecorino cheese.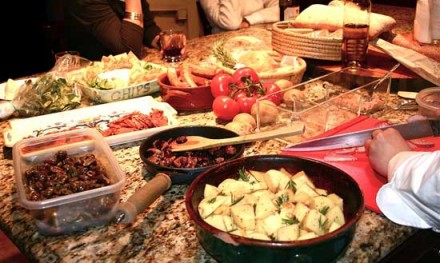 The No. 1-selling Corrado house pizza (except nobody pays) is an adaptation of a pizza from a pizzeria in Palermiti that Frank made up. It's simple, sounds terrible, and is, I think, the best pizza I've ever had. (This could be a sort of love-the-one-you're-with effect, but I don't think so.)
This is it: a small amount of (uncooked) tomato sauce (you want to see the white dough beneath the red sauce) and tiny bits of the following three ingredients sprinkled sparingly around the pie: canned Italian tuna in olive oil; Gorgonzola dolce cheese, and thinly sliced red onion. Oh: and a little sprinkle of olive oil all over.
The Corrado's oven is big (43 inches across), allowing them to keep a fire burning on one side of the floor while cooking at the same time. They are thus able to keep the oven at a pizza-loving 700 degrees endlessly.
The floors of smaller ovens, however, can't accommodate both a burning fire and cooking food. Because of this, cooks have traditionally planned a series of dishes to bake at various points as the oven's temperature descends from its 700 degree high.
You can be sure that Frank's great-great-great grandfather's family conserved their wood resources by using every stage of the fire's heat.
Edible South Shore magazine food editor and wood-fired oven enthusiast Paula Marcoux gave me a taste of that dynamic.
Marcoux, who (somehow) made her own small oven out of clay and bricks, starts with pizza after a good long fire has heated the oven to about 700 degrees and she's swept out the ashes. As the temperature drops, she starts making bread.
"By the time my first batch of large loaves is done, my oven has usually fallen a bit too low for much more of that sort of baking, so I like to move on to other things: a cake, a chicken," said Marcoux.
A cake sounds good. Chicken's good, I know that. And pizza, lots of pizza, dessert pizza even, sounds very good. And so does the relative simplicity and communal nature of making pizza when entertaining.
I want a wood-fired oven.
For more on Frank Corrado's masonry work, visit www.frankcorrado.com
Follow Joan Wilder on Twitter.