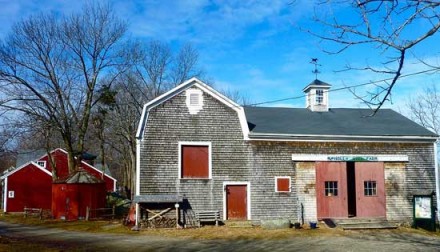 Ever since Meryl Streep's public outrage over pesticide use on apples in the '80s, organic food has ignited a range of reactions in shoppers — from allure and appreciation to confusion and distrust.
Recent news that some of Whole Foods frozen vegetables are grown in China (though clearly labeled as such) has highlighted the problem. And the loop-holey laws regulating which products can be designated as organic only makes matters worse.
Further exacerbating the issue are big problems in our factory farms and food distribution chains, tight budgets, and the overwhelming volume of information required to spend your food dollars wisely.
That's a lot to contemplate before you even reach over your cereal bowl for a banana (or not!).
But, consider this: organic can be as simple as sowing a seed in soil and growing a plant: as simple as buying some produce from the farm where it's grown.
Cohasset's Holly Hill Farm is a good place to see how to raise fruits and vegetables without the use of pesticides. It's a good place to demystify your conception of organic and bring it on home – a good place to buy organically grown broccoli or carrots, potatoes or kale. In fact, as a thriving for-profit organic farm with a non-profit educational component open to the public from dawn to dusk, it's a local treasure.
The old barnyard looks much the same as it must have 100 or even 200 years ago. Two dogs run free, a cat sidles around, and old structures — patched together with the make-do methods of farmers everywhere (like the greenhouse door shown here) – hold a busy farmful of chickens, goats, horses, and rabbits.
The seasonal farm stand, with its honor-system cash box, is housed in the old barn, circa 1785. And the fields and woods, salt marshes and cart paths bear the echo of the generations who have walked and worked this land unchanged.
Today, however, there are computers with information-rich Internet connections on office desks in the old farmhouse. And tractors. And such paradoxically high-tech, low-tech materials as plastic, from which inexpensive greenhouses can be built, and gardening fabric that extends growing seasons by keeping plants warm.
"Organic farming is a lot more knowledge-based today," said Ben Wolbach, who manages Holly Hill with his wife, Hannah.
Just listening to the Wolbachs talk, you hear the fundamentals: crop rotation, succession planting, composting, using pulverized sea creatures or particular bacteria to deter or kill pests. And the work, the hours, the love that goes into the growing.
"The biggest thing is observation," said Ben. "We're in our fields every day."
Every day from March until December, that is. Still, the farm staff is plenty busy in winter, too, planning the season.
This week, the farmers will light the old wood stove in their big greenhouse and start planting the year's seedlings. Once that starts, they have to keep the fire burning around the clock until the vegetables can be planted in the fields.
"It's like having a baby to care for, we can't go out without planning," said Ben.
The actual fruits of the farmers' work are sold in season at the farm daily and at the Cohasset Farmers market.
The intellectual fruit, the knowledge, is an open book to hundreds of area students who use the farm as a classroom each year through the farm's educational program. Holly Hill's award-winning farmer-teacher, Jon Belber, has extended the farm's reach by building gardens at schools in Scituate, Cohasset, and Hingham. Planting and growing, little kids become interested in vegetables they might not otherwise consider.
"When they've grown it, they'll often eat it," said Belber.
And, eating is, of course, at the root of it all.
"Ben and I don't buy vegetables," said Hannah, who keeps a freezer full and extends the season by growing greens in the greenhouses.
I visited the farm twice late last month. I went back a second time because I couldn't quite believe what I'd seen the first: a row of spinach plants (below) in the ground in an unheated greenhouse, growing in February.
They should be ready for eating by late-April, around the time the asparagus comes in.
Holly Hill is in the unlikeliest of places for a farm – Jerusalem Road, renowned for its strip of oceanside mansions. The land has been passed down through five generations of the White family, who saved it from development through a conservation restriction.
In 1998, Jean and Frank White moved in full-time and started up the farm's current incarnation as a commercial farming and educational enterprise.
After a brief illness, Frank passed on in September. Jean is very active with both farming and administrative tasks. She writes a beautiful column in the farm's newsletter and knows a thing or two about cooking vegetables. A new director, Cindy Prentice, has stepped in to help carry Frank's vision for the farm forward.
Of Holly Hill's 140 acres, 10 are growing fields, 10 have structures, and 120 are forest, salt marsh, ponds, and streams. The land, saved forever as the Cornelia and Richardson White Woods, is open to visitors from 7 a.m. to 7 p.m., daily.
236 Jerusalem Rd. Cohasset, MA 02025; www.hollyhillfarm.org