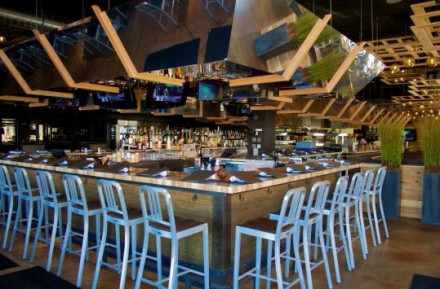 Finding Legal Sea Foods' new restaurant – Legal C Bar – in Dedham's Legacy Place couldn't be easier if you know Boston.
It's just a few hundred yards from Exit 15A off Route 128.
If, however, you don't know Boston, you won't know that Route 128 is variously labeled I-93, I-95, US-1 and even Yankee Division Highway on Internet maps and roadside signs. All of which is terribly confusing and may even send the uninitiated hurtling toward Providence.
But never mind: just get good directions from a human being, stick to your guns, and know that the irregular signage on Route 128 is almost as institutionally Boston as the Berkowitz family's dynastic Legal Sea Food restaurants (albeit a lot less appreciated).
This is Legal's 30th restaurant and a far cry from the Legal Sea Foods fish market George Berkowitz opened in 1950 in Inman Square adjacent to his father's (Harry Berkowitz) grocery store. Eighteen years later, in 1968, the younger Berkowitz set out some picnic tables and opened up a fish restaurant, and the rest is history.
Today, George's son, Roger Berkowitz, heads up the family-run company and has just been named one of 20 semi-finalist restaurateurs in the 2010 James Beard Foundation Awards — and the only one in Massachusetts.
Legal C Bar, nicely situated in the center grouping of buildings at Legacy Place, is a more casual version of a Legal Sea Foods.
The C in its name references the casual concept — as well as the customized cocktails made at its very large bar and the fact that so many of the dishes begin with C – crab, cod, clams, calamari. The C also refers to the contemporary style of the space, which has lots of windows, blond wood, brushed metal, and angled mirrors that make you wonder if you're really seeing tables on the catwalk section of the second floor (you are) or if they're an optical illusion.
Knowing that about 40 percent of Legal C's menu items are not served at the classic Legals in Boston (Park Square, Long Wharf, the Prudential Center, Chestnut Hill) we set out to have as many of the new items as we could – almost tapas style.
Each bite of the very good whole wheat shrimp and pesto pizzetta ($7.95) imparted a different flavor: some were mouthfuls of perfectly cooked, springy curls of medium-sized shrimp; some burst with the sweetness of dried tomatoes cured in balsamic vinegar; and some were simply good pesto-flavored crust.
The slow roasted Vande Rose ribs ($9.95) tasted much better than they looked — I wanted them to be darkly seared and crispy — but the meat was as tender and delicious as I've ever eaten.  One of us thought they needed barbeque sauce, but I found them luscious with a sprinkling of salt.
We couldn't resist ordering the menu's deviled egg ($2.25), which was, well, a deviled egg with a sliver of pickle on one half and a bit of smoked salmon on the other. I couldn't taste either topping, but I got a kick out of having a deviled egg at a restaurant.
Our only savory concession to the classic Legal menu was Legal's signature crab cake ($13.95) which is a single cake with more crab in it than you get in two at most other places. Legal's is an irregular mound of little oval clumps of jumbo lump crab held together with the thinnest crust. It didn't seem to have any breadcrumbs or other fillers binding it together, but there must have been something. It was sweet and delicious, the mustard aioli subtle and good, and the small salad at its side so brightly dressed and fresh with piercing flavor it commanded attention: a mesclun mix with thinly sliced apples, walnuts, and sweet dried cranberries.
Instead of main courses we had the grilled swordfish reuben ($11.95) and the lobster wrap  ($21.95), which the kitchen nicely split for us. The wrap came with a choice of sides, and we chose well: garlic spinach – sautéed with slivers of garlic, and a scrumptious sweet potato mash.
The swordfish reuben totally satisfied the reuben lover in me. The sandwich was built with rye bread lightly grilled with butter, a slathering of cole slaw, just the right amount of a Russian-like dressing, and a lovely grilled filet of swordfish. A juicy, wholesome, delicious fish reuben! Wonderful.
The lobster wrap – not to be confused with the lobster roll – would have stolen the show if only the naan-like flatbread had been as perfect as everything inside it. In any case, the wrap was large, even half was large, and it contained lots of big hunks of tender lobster meat, chunks of perfectly ripe avocado, iceberg lettuce, a bit of chipotle mayo, and some bacon. Eaten as a roll, it tasted like a brilliant lobster club sandwich. Unrolled (only because the flat bread wasn't quite soft or thin enough) it was a lot of delicious tender meat with bites of flavored sides. If Chef Patrick Keefe can find a softer, lighter flatbread this wrap will be a prizewinner. (It's so nice to have the lobster without tons of mayonnaise.)
Dessert number one was a special, lovely, not-too-sweet Haitian rum raison bread pudding ($5.95) with a distinctly not overly sweet, very stiff, small dollop of whipped cream on top. Our great waiter, Max, told us that proceeds from the desserts' sales will go to emergency relief efforts in Haiti through UNICEF and Partners in Health.
The Boston cream pie ($6.75), a standard Legal Sea Food dessert, was good and constructed more like a tiramisu than a pie or a cake. I'd order it again.
By the time we left at about 8 p.m. on a recent Thursday evening, the 190-seat restaurant was packed with people and good feeling.
Legal C is a fine new eatery a minute off Boston's main commuter artery, Route 128 — aka I-93, I-95, and US-1. Oh, Boston!