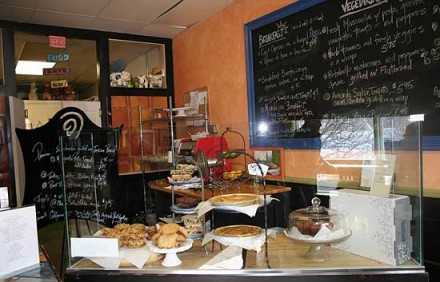 Taste is fickle, and like a schoolgirl who falls in love with one boy after another, its affections are boundless. Not only that, but our taste buds aren't prejudiced and can thrill equally over a top chef's expensive dish, a simple soup, or that American mainstay, the sandwich.
Which explains how I found myself eating two sandwiches at once last week, and raving, between bites, that they were the most delicious things I'd ever had.
We were at Circe's Grotto in Scituate, and the sandwiches in question were the portobello mushroom, roasted red pepper, and chevre on grilled flatbread ($7); and the roast beef, horseradish mayo, mixed greens, and roasted red peppers on grilled Tuscan bread ($7).
There must be sandwiches somewhere as good as Susan Stella makes in her little shop in Gannett Corner, but I haven't found them on the South Shore.
Circe's front of the house is a colorful, pleasing single room with an enormous chalkboard menu and a set of swinging doors that lead into the rear kitchen. Much of the eatery's business is takeout, but you can eat in, too. A long communal table seats six in leather chairs; three stools at the counter along the front windows offer a faceful of morning sun; and the single table for two is a good snag.
Along with sandwiches, Circe's serves a few salads, soups, great baked goods, and daily specials that can include pizza, chicken pot pie, or a snap pea and sesame-seed side dish. Of course, there are drinks and chips, too, but the real stars of the show are the sandwiches.
I ate there four times recently, sneaking in at odd hours. On my second visit, I had a slice of the day's special pizza ($4): a deep-dish version with caramelized onions, cheddar, portobello mushrooms, and chorizo on a biscuit-type crust, while I waited for an order to go.
In the car (we wanted to sample the sandwiches hot), I loved the home-baked turkey, melted cheddar, red onion, avocado, and red pepper mayo ($7) – another home run. Next, when I bit into the mozzarella, tomato, and pesto panino ($7) a bit of fresh cheese dripped down my chin and images of Italy flashed across my mind – really.
Circe's breakfast sandwiches are terrific, too – and bear little resemblance to what I think of as a breakfast sandwich. The Mendocino ($5) is spectacular. It's made with the same outstanding flatbread that Circe's uses for its portobello mushroom sandwich, which Stella later told me is a naan.
The sandwich, which is grilled like most of the sandwiches, was a symphony of scrambled eggs, tomatoes, great hunks of avocado, and sharp cheddar – bits of which had melted out the sides and crusted up on the bread. Heaven.
Also delicious is Circe's breakfast burrito ($5), which I ordered with egg whites. I'm generally not crazy about wraps, but Circe's grills theirs, which made the black bean salsa, cheese, and egg meld nicely inside the hot little tube.
Stella's special butternut squash soup ($4) with curried apples was an insanely delicious puree of head-shaking flavor: I'm craving it still. Several of the restaurant's salads are good, too, and I really appreciate that they're dressed with very nourishing extra virgin olive oil.
There are four on the menu and I liked the baby spinach with peas, pine nuts, Parmesan, and pesto vinaigrette ($7) and the simple fresh garden salad ($6). For an extra $2.50, you can order the salads with chicken, tuna, or turkey – and each comes with a hunk of good toasted bread.
Stella bought Circe's in 2002 after working there for a few years. Her guiding lights are a love of eating and a quest to get the best-quality food she can get or make. Her homemade spreads are certainly part of the formula – the red pepper mayo, the horseradish mayo, the Dijon mayo – and the breads, top-notch.
And then there are the baby greens she uses for lettuce, and, well … the hunks of fresh avocado, and the non-vinegary roasted peppers, the olive oil used for grilling, the care taken in building each sandwich.
Just go to Circe's Grotto, get a sandwich, and eat it.
Then marvel at what great food can come sandwiched between two pieces of very good bread.
Circe's Grotto
344 Gannett Rd., Scituate
781 544-6007
Open Monday through Friday, 7 a.m. to 5 p.m.; Saturday, 8 a.m. to 4 p.m.
Credit cards not accepted.
Accessible to the handicapped
Follow Joan Wilder on on Twitter.