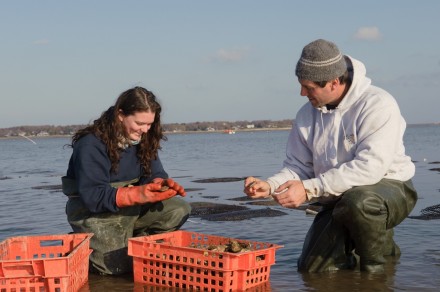 Did you hear about the oysters from Duxbury who grew up to be beer?
True story.
One hundred and eighty bivalves, reared from tiny "seeds" in Duxbury Bay, were harvested on Jan. 21 and driven to the Harpoon Brewery in Boston's Seaport district.
Upon arrival, oyster farmer Skip Bennett (above right) and a salty crew from his company, Island Creek Oyster, helped the yeasty brewers shuck the mollusks. Then, at just the right moment in the brewing process, Harpoon brewer Katie Tame (above left) added the oysters to a vat of what she hoped would become a memorable batch of the company's first limited-edition oyster stout.
By all accounts, Tame succeeded with Harpoon's 100 Barrel Series Island Creek Oyster Stout, bottled on Feb. 5.
Using oysters to make stout is not unheard-of, but it is rare. The idea for an Island Creek Oyster-Harpoon offering wafted into the stratosphere out of the relationship between Bennett, a couple other Island Creek farmers, and a group of brewers from Harpoon.
On occasion, the group gets together to shoot the breeze, drink stout, and eat oysters. And, well, you can imagine the ideas that come from that.
"We fell in love with stout as going really well with oysters," said Bennett.
"As a style of beer, oyster stout can have oysters put in during the brewing process or it might just be brewed to pair nicely with oysters," said Tame, who spent several months in the late summer and fall making 10-gallon test batches to develop her recipe.
"It's a unique beer, there's definitely nothing like it out there on the market right now," she said.
The local, artisanal nature of Bennett's oyster farming and Harpoon's small brewery make this joint venture, limited-edition oyster stout an especially sweet Boston-area offering.
Bennett starts his oysters every May from teeny oysters (500,000 to a pound), called seeds, that are placed on fine screens in tanks attached to a dock. After about six weeks, when they're nearly half an inch, they're moved into mesh bags that are held on wire shelves in wire boxes placed on the floor of the bay. When the tide is low, the boxes are exposed to the air, and the farmers can scrub the bags of oysters to keep the growing bivalves clean.
Six to eight weeks later, by the end of August, when they've grown to an inch or more, they're put directly on the bottom of the bay where they grow for at least another year.
"We call them free-range oysters at that point," Bennett joked. Today, Island Creek Oyster has about 30 farmers with leases in the bay for a total cultivated area of 50 acres out of the bay's 10,000.
Although the same species of oyster is used from Nova Scotia to the Gulf of Mexico, each area's oysters are unique. Just as wines take their characteristics from such environmental factors as soil, sunlight, and humidity, oysters take theirs from salinity, minerality, water temperature, depth, and the local algae they feed on.
Beer depends on a similar (though man-made) alchemy of particular malts, hops, and other ingredients added during the brewing process.
In the first stage of the process, crushed malts are steeped in water to produce sugars. "I tried to choose malts that would complement a briny salty character and not overpower it," said Tame, whose recipe included chocolate rye malt, black malt, and roasted barley.
After the malts have done their thing, the solids are removed and the liquid is transferred to a kettle for the next stage of the process, known as the boil. Hops are added during the boil — at various precise moments in the hour-long procedure — to produce desire aromas and flavors. The oyster bodies were added half way through the boil.
"The oyster protein dispersed in the beer and that protein enriches mouth feel and body, and helps promote head retention" as well as overall flavor, said Tame.
And just what is the flavor and aroma of this winter's Harpoon 100 Barrel Island Creek Oyster Stout?
"It has roasted notes, with chocolate, caramel…a biscuity flavor. It has a smooth mouth feel and I'd say it's lighter than I expected," said Tame. "It's extremely tasty."
The Harpoon 100 Barrel Series Island Creek Oyster Stout is widely available at package stores that carry specialty craft beer products. Typically, Harpoon's 100 Barrel series beers last about three months on the market before they run out.
Follow Joan Wilder on
Twitter.