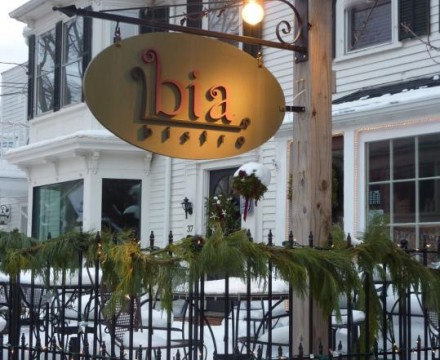 It's been just seven weeks since Brett Williams started as head chef at Bia Bistro taking over from owner-chef Brian Houlihan who's tending to his new pub, The Tinker's Son, in Norwell. The pristine and pretty bistro's menu – which has remained largely the same since the restaurant opened nearly five years ago — is about to change to include some of Williams' dishes. Judging by the young chef's six years at Riva in Scituate, and his masterly execution of Houlihan's menu, we can only attempt to reign in our enthusiasm while awaiting a subsequent visit.
The kitchen (there were three men and the chef working it on a recent slow and snowy Sunday night) makes its own foccacia in its pizza oven – a light and crusty version much more delicious than the cakier types that abound.
The same oven also produced the three-hour tomato, mozzarella, and basil ($9) flatbread (pizza) we shared for a starter. The pizza, which takes its name from the three hours its cherry tomato topping spends sweetening in a low oven, was good, but the crust wasn't as great as the rest of our meal would make us expect. Williams, who's cooked in Italy and grew up with that cuisine, will change the dough as part of the new menu update.
The half order of Guinness braised beef short ribs ($14) with blue cheese whipped potatoes will be one of Houlihan's many original dishes to remain when the menu changes – and there's every reason to support that decision. Some bites of the tender boneless ribs really do almost melt in your mouth. No sauce needed here. They're swooningly, moaningly, good.
A second half order (the menu calls these dishes splits) of pan seared sea scallops with a roasted fennel and shrimp risotto ($16) is beautifully done. The first bite of the creamy risotto sparks with a pepper and the four small scallops are as delicately done as the intimate warren of old Colonial rooms that comprise the physical space.
Here, now, is the duck dish ($26) I've been wanting and hearing about for a while! A confit leg (the size of a skinny chicken drumstick) of tender, perfectly seasoned fowl with a crispy skin sitting atop a rustic heap of caramelized roasted sweet potatoes. As if this were not enough, a wonderful citrus glazed breast, cut on the diagonal, is fanned out in an arc of medallions surrounded by a flirty, berry-flavored reduction – cassis jus – and some very good fresh asparagus.
The grilled hanger steak au poivre ($24) needs no sauce beyond the thick peppery one that clings to the narrow slices of meat. Great pan-fried potatoes, with a mass of caramelized onions, and fresh asparagus are served with this very satisfying dish.
In 2005, Houlihan, whose career included years as executive chef at the Regal Bostonian's Seasons and sou chef at the Four Seasons, created Bia to be a fine dining, classically French-style boutique of 45 seats. And, while the Bistro remains a refined boutique experience, the space was expanded two years ago to include a small bar and two new rooms. The renovation increased its capacity to 70 seats and added a bar menu of tapas, salads, and smaller comfort foods to offer guests more versatility.
The spectacular crispy duck confit leg can thus be enjoyed as an appetizer with baby greens ($11), as a flatbread (pizza) with cheddar and caramelized shallots ($11), or as a tostado ($9)– at the bar!
If there was anything that could cap off a dinner as great as this one, it was the evening's special dessert sampler ($12).
Thankfully, each of six little confections was of a gentile size and so good that, really, they made the idea of dietary restraint seem like some sort of dementia. Four of the six tied for first place in my book: the chocolate lava cake (dark, not too sweet, warm, and molten in the center); the chocolate amaretto custard (known in Italy as bonet): the apple rhubarb tart (bright as sunlight, tart and clear); and the chocolate crème brulee (in a little espresso cup with miniscule strips of candied orange skin criss-crossing its thick whipped cream topping).
Restaurants are a tough business and the best need a constant caring hand. I suspect that time will show that Houlihan has found that in Williams.