It's only the third Saturday night since Jasper White's fourth Summer Shack opened at the Derby Street shops, and at 5:30 p.m. there's already a wait.
The crowd is a mix of ages and styles, but en masse this feels like a group that absolutely knows its seafood.
Trying to get a grip on the somewhat confusing menu, I watch nearby diners take to it like fish to water: They know how to down oyster shooters, shuck boiled shrimp, slurp steamers, and crack lobsters. Bib on, shells in the red bucket: Go!
Which isn't to say that non-fish eaters can't find something good here, too.
The menu is large and reflects White's lifelong love for the foods of his Jersey shore childhood. It has plenty of classic favorites — fish and chips, fried clams, crab cakes, lobsters, calamari, chowder — along with some of what White refers to as boardwalk foods — corn dogs, chicken wings, hamburgers, and French fries.
But the menu also offers non-seafood and more elegant dishes — grilled fishes with fresh salsas, sirloin steak, salads, and such originals as pan roasted lobster in the shell. Amazingly, the restaurant also serves long-grain brown rice — very unusual! — as well as such sides as fresh broccoli rabe with garlic, and roasted winter squash.
Enormous wall chalkboards list the specials, which include eight types of oysters. It's clear that you can't take the beach boy out of the fine chef any more than you can take the fine chef out of the boy, and the menu reflects both parts of its creator.
White talks about his culinary inspirations in his fourth and most recent cookbook, "The Summer Shack Cookbook," and on the restaurants' website.
He opened the first Summer Shack in Cambridge in 2000, after closing Jasper's — his award-winning Boston restaurant — in 1995 after 12 years. He realized, he's written, that he likes "roll up your sleeves" dining more than the world of fine restaurants. The other Summer Shacks are in Boston and Connecticut's Mohegan Sun casino. White splits his time among them all, while executive chefs at each run the daily shows.
Although the big space is much more upscale than the Cambridge Shack, the focus is still on functionality. The chairs are padded and very comfortable, the tin walls feature giant photos of long ago South Shore beach scenes (Scituate's Second Cliff; Nantasket's old Atlantic Hotel), which appear to have been chosen for local color rather than to create a decorator's dream.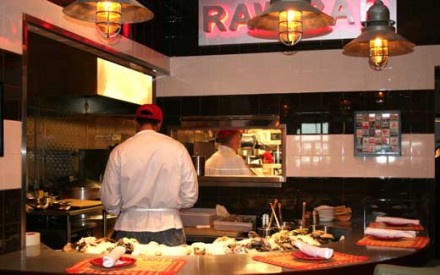 The space is divided into sections with half-walls and has booths big enough for six and round, square, banquet, and bar tables — 193 seats in all. The most stylish area is the rear raw bar: a small circular counter enclosing an ice table covered with oysters and clams. Its surrounding black and white tiles and red neon sign create a look evocative of old seaside food places from the '50s.
The acoustics are good, somehow, because although it's loud you can easily hear your tablemates' voices.
The service is terrific and our waiter is totally cool with our ordering piecemeal as we decide what we want.
I love the peel & eat
Florida hopper shrimp ($11) which arrive on a plate in a net bag cut open on top. We pick and peel the highly seasoned shrimp with our fingers, one by one, from inside the net bag where they lay amid hunks of celery, onions, and lemon. Really good fun and tasty.
Fried clams next, appetizer portion ($11). They're hot and delicious — and large. I eat the smaller ones among them and like that size best.
Oh, by the way, the bread basket is odd — must be a beachy thing: hamburger-type white rolls and corn bread squares. (Nothing I'd waste stomach space on.)
Next we share two of the evenings grilled fishes: the mahi mahi ($22) and a fish totally new to White and Executive Chef Nick Wilson: Faroe Island trout ($24).
The trout is like a mild salmon and Chef Wilson (he later tells me) has grilled it over a very high flame after seasoning it with only salt and pepper. It's great. I ask to have mashed potatoes with it rather than the couscous it comes with and they're irresistible. So is the carrot puree encircling the filet and the grilled scallions laying across it.
The tropical fruit salsa that comes with the spiced mahi mahi ($22) dazzles with piercing flavor — pineapple, mango, cilantro. The white rice is perfectly fluffy and so is a side of long-grain brown. Another side of broccoli raab is enough for two and excellent with slices of sautéed garlic.
The bananas in the banana crème pie ($5) are ripe and the uncommon dessert is very good.
We're full but want more, so we show up for lunch on Monday. The place is a third full.
The clam chowder is delicious — big chunks of very hot potato, flecks of parsley. We shoot the moon with what the chalkboard calls a big bucks lobster — a one-and-a-half-pounder — pan roasted ($30).
The whole lobster has been wacked into six pieces and sautéed with beurre blanc right in the shell. You need the bib to protect yourself as you crack the crustacean. It's very tasty and the belly sections are a revelation because there are bits of meat in there I don't normally pry out when eating a whole boiled lobster.
Our other lunch entrée is a terrific tuna burger ($12). The tuna has been mashed and mixed, meatloaf-style, with other ingredients — Parmesan, scallions, and more. I'd order it again in a minute. Better than a burger.
We have warm Indian pudding topped with vanilla soft serve ($5) for dessert. It's very good and tastes of molasses and corn.
This is a fun, lively place with a variety of foods — both heart healthy and, as White says, heart happy. It's a solid addition to Hingham's thriving restaurant scene.
Summer Shack, 96 Derby St, Suite 325, Hingham; 781-740-9555; summershackrestaurant.com