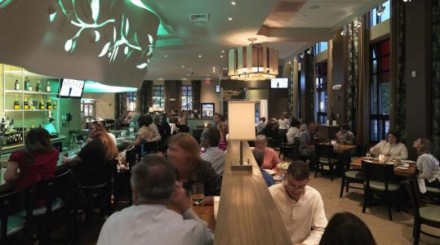 Tavolino, which opened in early April near the new Renaissance Hotel, has an airy, clean feel to it.
It didn't take any more prompting than a friend's recommendation to get me out the door and headed to Tavolino at Patriot Place in the darkness of a late Thursday afternoon earlier this month.
I like the vast scale of Patriot Place — especially the colossal stairs that lead to one end of it. They are a monumental
structure, and ascending them – or just standing at their base — imparts a feeling similar to standing at the foot of a pyramid.
But not to worry: you do not need to climb anything to get to Tavolino.
In case you don't know: Patriot Place is a shopping
complex comprised largely of an outdoor walking street with stores and restaurants adjacent to Gillette Stadium. The grading and layout of the enormous site, which includes the 71,000-seat arena, is such a marvelous engineering feat that one end of the outdoor walking mall hangs in the air high above street level while the other end is at street level. You can, therefore, park either just feet from Tavolino, or near the stadium ticket windows, climb the pyramid-like stairs, and walk the length of the mall to the restaurant.
I arrived late but earlier than my dining partner, and hungry! Our server was flexible and responsive and I had a cup of the soup du jour ($4) – a good, thick bean and sausage — in front of me within minutes.
Although the mall was quiet, Tavolino at 7 p.m. was nearly full. The restaurant has a light, easy ambiance that's inviting.  The space is clean and simple with tall windows on two sides. Design-wise, it's dominated by a curvy marquee-like structure over the bar that changes colors through the effects of projected light.
The saucer of oil that came with the warm bruschetta and Italian bread had a small dollop of very finely minced garlic in the center of it – which I've never seen before. I was (and remain) absolutely delighted with this as I could dip my bread in the oil, lightly touch the little island of garlic, and come up with a bite that tasted like garlic bread. Brilliant!
Once the soup soothed the savage beast, we restarted with the fried calamari ($11) with citrus tomato aioli. It was good and light and the aioli was delicious. The dish came with two cherry peppers that offered nice little hits of hotness if you chose to peck at them.
Next my dining partner and I shared a good, lightly dressed mesclun salad ($7) and a great butternut squash tortellacci ($16) (enormous tortellini). These were wonderfully al dente and served with caramelized onions, a dollop of mascarpone, and a light bourbon cider sauce.
I very much appreciated the Berkshire pork marsala ($19), which (cq) is purchased from farms that are certified as humane, use vegetarian feed, and are antibiotic- and hormone-free, Chef Matthew Kennedy (cq) later told me. The bone-in loin chop was pan roasted, thick, and good. It was served with fresh broccoli, scrumptious whipped potatoes, and a rich and musky marsala sauce thick with porcini mushrooms.
A second main course of pan-seared sea scallops ($24) with honey hazelnut glaze was tasty. The sweet potato puree surrounding them was nice, and several thin spears of grilled asparagus were bright and perfectly done. If I were to order this dish again, I ask to have it with whipped potatoes, not the orzo it comes with.
We ended with a very good tiramisu, its cakey layers heavy with liquor, its creamy ones very creamy. The peach cobbler was good too – mostly sweet baked fruit – delicious.
Tavolino has an extensive menu of brick-oven pizzas that I will order from next time I go. It also has wine specials daily, and Thursday through Sundays (excluding stadium event days) it offers a four-course tasting menu for $24. The restaurant also serves some breakfast fare through its Tavolino Express – a small attached cafe that opens at 7:30 a.m. with espresso drinks, pastries, and breakfast sandwiches.
Tavolino opened in early April — later than most of the other places at Patriot Place. If you're walking from the big staircase near the stadium entrance, it's almost all the way at the other end – near the new Renaissance Hotel. Don't miss it.