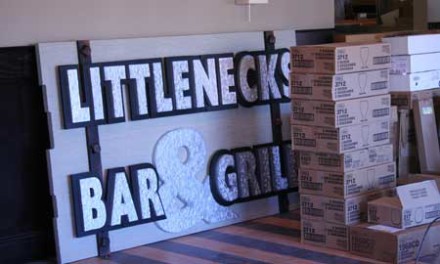 Tony DeRienzo is one cool guy under pressure.
Standing in the middle of his new 200-seat restaurant Littlenecks Bar & Grill in Weymouth — 10 days before its scheduled opening, DeRienzo has the demeanor of somebody hanging with friends at a cookout.
Just seeing all the unfinished details in the place makes me anxious: boxes, ladders, hanging electrical wires, a jumble of stainless equipment, stretches of empty space — and nothing at all to eat.
To me, it looks like it would take months to pull it together into a sparkling living restaurant. But to its owner and executive chef, it's almost there: He can visualize the restaurant up and running.
"Compared to what we've done, this is almost finished," DeRienzo said, who began the large renovation job (at the site of the former Acapulcos restaurant) only three months ago.
As DeRienzo (in black shirt above) and I talk, a bunch of guys work on installing large appliances in the big bar; his chef, Joanne Jewell (in middle, above), moves boxes of kitchen stuff around; and his sushi chef darts about.
"Tony, you got that knife on you?" asks a plumber who needs a sharp edge to cut open a cardboard carton.
"No, it's on that case behind you," DeRienzo says immediately, pointing to a spot halfway across the room.
As executive chef, DeRienzo is in charge of just about everything: cooking, food purchasing, the menu, hiring, marketing, inventory control, and, apparently, the whereabouts of workers' tools. Which is fine with him.
"I love to cook," he says, as his face lights up. "But I love the concept development and business aspects just as much."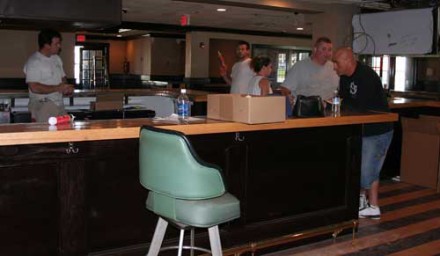 DeRienzo is co-owner and executive chef of the 350-seat Waterfront Grill on Homers Wharf in New Bedford, which opened last year.
After graduating from Johnson & Wales University, he cut his teeth cooking in various Boston restaurants, including a stint at Boston's Biba, under chef Lydia Shire. Over the years, he's been instrumental in opening 11 eateries, including all five of the Raynham-based Stoneforge Restaurants where he was executive chef.
Then, last year, he launched Venture Restaurant Concepts with the intention of opening several new places: Littleneck's will be the second.
The menu has about a dozen "modern American" fish dishes, half a dozen chicken and meat entrees, sushi to order, and about 20 smaller plates, soups, and salads. He clearly loves fish and has several favorite fish purveyors, from fisherman who dock just outside the front windows of the Waterfront Grille to international wholesalers who send fresh fish on dry ice overnight from half a world away.
"When developing the menu and concept, you position yourself to respond to the market location," he said.
DeRienzo's concept for Littlenecks "market location" is progressive ocean cuisine and sports bar: 17 flat screen TVs will silently broadcast games (with subtitles) above the large rectangular bar.
A sports bar with sushi? People who like sports bars now, evidently, want more than the usual sports bar fare.
"It's key now, comfort at the bar," said DiRienzo, whose highest priced entree will be $22.
As for his market, it's big. According to the chef, 26,000 cars each day pass the restaurant at 1073 Main St.; four towns abut the location; the South Shore Hospital is up the street; Route 3 is less than a mile away; and the entrance to the former South Weymouth Naval Air Station (which is slated for redevelopment) is close by.
As we talk, his project manager, "DC," is sitting around on an old broken bar stool — triple checking to be sure that the bar's brass foot railing isn't going to bump into the stools once the furniture arrives.
I sit on it and give it a shot.
"Careful, it's broken," says DeRienzo.
The stool is the only chair in the place the place that was due to open in 10 days.
If there is one thing that could worry DeRienzo, it's a slow boat from China: the one that's carrying the restaurant's furniture.
When I mention ships and hurricane season, he smiles.
"Perfect, right?"
But he's not worried: If he doesn't open this week, he'll open next week. And, so far, it's looking good. The news has been dominated by reports of cloudy conditions with a chance of meatballs. Nothing at all about hurricanes.