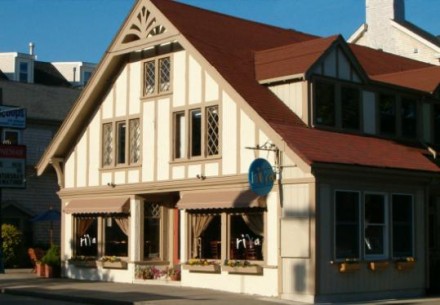 I'm starting a list: South Shore restaurants that have outdoor dining. I don't think it's going to be very long.
So far, Riva in Scituate is number one because although it's sheltered from zooming traffic it's open to village street life. On the mid-week early evening I had dinner there, people wandered in and out of the restaurant and up the street with baby carriages or dogs. Tucked between the restaurant and the dance studio next door, the patio has the feel of a village trattoria in the Tuscan countryside.
It's a rare, mid-May perfectly warm early evening and I'm sitting outside at Riva. It feels so good after the winter we've had that I could eat practically anything and enjoy myself. As fate would have it, the food outshines the weather.
My husband (trusty dining companion equally smitten with the weather) and I start out with the P.E.I. mussels ($8). They are as good as any I've ever had. Slices of Italian sausage and inch-long diagonals of asparagus float in their buttery wine and herb broth. They are small and tender, and bites of the perfectly cooked asparagus are bright flashes of contrasting texture and taste. A second appetizer, the stuffed artichoke, ($8) is the one dish out of the eight we order that misses the mark. (It simply doesn't taste like much, but maybe I am spoiled by my (Italian) mother's version.)
Next, we have half orders (a nice feature) of two salads: a simple mixed mesclun ($4) and an arugula ($4) with snippets of vining pea tendrils and slivers of fresh parmesan. Each is dressed lightly with olive oil and different acids (balsamic vinegar and lemon, respectively) and refreshes just the way it should.
Our primi piatti are not only pasta dishes but have enough protein to serve as secondi, or main courses. The revelation is the boneless braised short ribs ($22) with fresh fettuccine in a parmesan cream. The three large pieces of tender meat, covered with a sauce of the red wine they were braised in, are sweet, succulent, and deeply satisfying. Juxtaposed against the cheesy fettuccine, the short ribs are so delicious I attempt to make them myself a few days later. (Mine don't compare: will try again.)
The evening's special chicken with linguine ($18) is good. With plenty of white meat tossed in a puttanesca-style sauce thick with capers, stewed and fresh tomatoes, and basil leaves, it's a lighter choice than the short ribs.
Although we're perfectly satisfied, we share one secondo piatto: the amaretto salmon ($19). The large, extremely fresh filet is grilled skin down with a thin crust of almonds on top. It is perfectly prepared, its flesh moist and light yet cooked all the way through. It's served on a bed of a pasta-like dish our server calls Sardinian couscous. Adorning the large filet are some show-stopping string beans. Again, they are perfectly cooked: not too crunchy and not overdone. Biting into their yielding tenderness releases a rush of garlic butter that goes directly to my head.
Suddenly, I erupt with a heightened sense of wonder and happiness –- with the food, the warm night, the gift of being at such a fine table.
I don't know why they grab me the way they do, perhaps it's shock that a humble vegetable can make such an impression after a parade of heavy hitting dishes. Or maybe the bright green string beans pack such a punch because they are one with the moment: the sweet embodiment of late spring, early summer. I savor each transcendent mouthful.
We end our meal with the chocolate raspberry potpie ($7) with (fabulous) whipped cream, which makes me completely forget about my peak experience with the string beans. It is a warm, moist, dark chocolate cake in a ramekin with a wet raspberry center and I love it.
Just 12 months ago, Riva's longtime bartender, Jay Cole, bought the restaurant from its former owner, chef Jimmy Burke. Cole's goal was to retain Burke's winning emphasis on authentic Italian cooking, which he seems to be doing. He's also retained most of the staff. Brett Williams has been the chef since 2003, Cole still works the bar, and my server has been with the restaurant since it opened in 2000.
Knowing that Riva is open for dinner every day now and also serves breakfast Thursday through Sunday, I keep trying to figure out if I can sneak down there when it's warm enough to eat on the patio. I could just stop in and have the mussels, even. Or, maybe just dessert, if they aren't too busy. Or, breakfast on a bright morning. I will as soon as I can.
116 Front Street, Scituate 781-545-5881 Breakfast: Thursday-Sunday 8 a.m. to 1 p.m.; Dinner seven days 5 to 10 p.m. www.rivarestaurant.net Major credit cards accepted ?Handicapped accessible